Ordering
Our aim is to make each Chris George guitar unique and special to the owner.
Each guitar should take on it's own identity; whether it be an acoustic archtop or electric resonator - or any point in between!
There is no production line and there is no batch building. Every guitar is focused on individually for the customer.
Each guitar may be loved and cherished but above all it is made to be played and played.
If you would like to discuss your own custom build then please contact us and, of course, you are very welcome to visit us to explore details and options in greater depth.
There can be up to a six month waiting list but this does vary. Allow about 6 weeks for your guitar to be built from the time we start the build.
Prices start from £1800 but vary dependent upon the options that you choose.
For Sale
This guitar is identical to the one featured in Guitarist Magazine June 2015 and in my featured build1/2015 except it is NOT distressed and it features two volumes and one tone rather than one volume and two tones - and obviously the Bigsby is new, not 40+ years old.
Price: £2200 including Hiscox case
Specification
Single cut solid electric
Body wood Alder forearm chamfer and 'belly cut' contouring
Slab cut maple set neck
Macassar ebony fingerboard with 25inch scale, 12inch radius, 22 frets
Depth at 1st fret 21.7mm
Depth at 12th fret 23.5mm
String spacing at nut 35mm
String spacing at bridge 51mm
Evo gold medium fretwire
Two way adjustable truss rod and twin carbon fibre bars
Lollar Gold Foil pickups
SLR roller nut
TonePros roller bridge
Bigsby B5 vibrato
Two volume and one
Tone control
Three way selector switch
Electrosocket output jack
Daphne Blue Nitro gloss finish
Schaller Stap Locks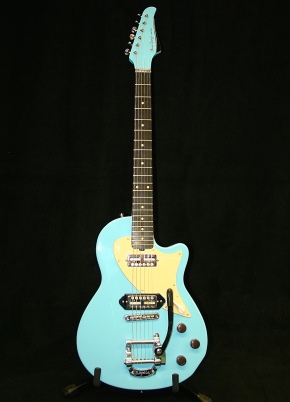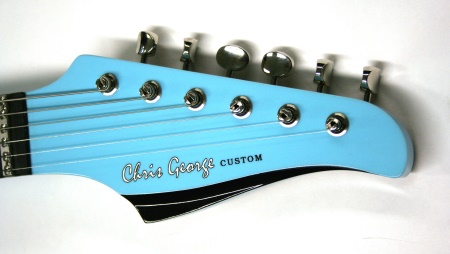 The guitars listed here are offered for sale at considerably discounted prices. They were built NOT as custom orders but as prototypes to experiment with different shapes/techniques /hardware/electronics. For full spec. please contact us.
GUITAR
Acoustic 12 string with Fishman pickup
PRICE
£2000
TYPE
00ish sized acoustic Lower Bout 14.25" Body depth 3 7/8"
Body length 19.5"

BODY
Spalted maple back and sides, Torrefied sitka spruce top and top braces, Rosewood bindings with fine line b/w/b purflings. Herringbone to front and to 3 ring rosette
NECK

Quarter sawn mahogany with carbon fibre bars and two way truss rod

F/BOARD

Macassar ebony. Scale length 24" with14 radius. Evo gold fretwire MoP Dots

HARDWARE
Individual 6 -a-side "Strat Type" tuners, Schaller strap locks and JDL bridge truss system
ELECTRONICS

FIshman matrix under saddle pick up with soundhole tone and vol controls
Easy access battery compartment at base of body

FINISH
Satin Nitrocellulose to neck and front, gloss to headfacing and back and sides
COMMENT
Very satisfying to play, the shorter scale length is easy on the fingers and there is no need to tune down a tone or capo up to the second fret!
---
GUITAR
Single cut solid electric 12 string
PRICE
£2000
TYPE
Single cut twin humbucker 12 string electric
BODY
Mahogany with "belly cut" contouring. Ivoroid binding and control knobs
NECK

Mahogany quartered one piece. Set neck
String spacing at nut 41.8mm at bridge 55mm

F/BOARD

Macassar ebony with 22 frets, pearl dot markers, 24"scale 14" radius
Depth at 1st fret 22mm, at 12th fret 26mm Ebony head facing and heelcap

HARDWARE
Gotoh bridge and tuners,Electro socket output jack, Schaller strap locks
ELECTRONICS

TV Jones Classic Plus bridge, Powertron neck pickups
Two Vol, two tones with push/push series parallel switching
"Retro" three way lever selector switch

FINISH
Surf Green nitro, gloss to body and head facing, satin to neck .Mint green pickguard and control plate
COMMENT
Short scale zero fret 12 string with light gauge strings very very very playable, perfect for that "Jingle jangle morning" feeling. It may look similar to a lightweight Dano because of the colour but the mahogany body gives it a satisfying strapped on feel and at about 8 lbs it is a substantial guitar.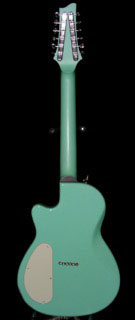 ---
| | |
| --- | --- |
| GUITAR | Single Cut Fat Custom Classic |
| PRICE | £1800 |
| TYPE | Single cutaway twin humbucker Electric |
| BODY | Half chambered mahogany with quilted maple carved cap |
| NECK | Triple spliced mahogany |
| F/BOARD | Bound macassar ebony 25" scale 12" rad |
| HARDWARE | TonePros wraparound bridge & tuners,Schaller strap locks, electro socket |
| ELECTRONICS | Bare Knuckle PG Blues pickups, concentric vol and tone controls, 3-way slider switch |
| FINISH | Gloss Nitro cellulose "Autumn Burst" |
| COMMENT | Quite a "Gibby" feel to this guitar. It weighs in at 8.2lbs. The neck is a "chunky" C profile and the pickups are unspotted and out of phase with each other. |
---
GUITAR
Curly Redwood Drop Top Electric
PRICE
£1500
TYPE
Double cut drop top twin pickup electric
BODY
Mahogany with curly redwood top
NECK
Triple spliced mahogany
F/BOARD
Macassar ebony 24.75" scale 12 rad
HARDWARE
Gotoh 501 tuners, Bigsby B5 vibrato, TonePros Roller bridge. Schaller strap locks, SLR roller nut
ELECTRONICS
Bareknuckle "Blackdog" Bridge HB, "Blue Note" P90 neck
FINISH
Gloss tobacco burst to body, satin to back of neck
COMMENT

This one is known as 'Ivor' because tuner knobs, control knobs, bindings and fret markers are all grained ivoroid!
It is a rare guitar for me in that it has 24 frets but the design, with two pickups, dictated it.
---
| | |
| --- | --- |
| GUITAR | Aged 33G |
| PRICE | £1800 |
| TYPE | Twin cutaway semi hollow carved top electric |
| BODY | Chambered mahogany with curly redwood carved top |
| NECK | Triple spliced mahogany |
| F/BOARD | Macassar ebony 25"scale 12"rad |
| HARDWARE | Bigsby B5 Vibrato with VibraMate string retainer, TonePros locking tuners & roller bridge, Schaller strap locks |
| ELECTRONICS | Custom wound Lollar Imperials, Freeway 6way selector, Two Vol two tones,Electro socket |
| FINISH | "Aged" clear nitro cellulose |
| COMMENT | The neck is more Gibby than Fender and the "aged" nitro finish is crazed but no deliberated 'dings" nor "dents" or false wear to the body nor neck. |
---
| | |
| --- | --- |
| GUITAR | Spider Bridge Acoustic Resonator |
| PRICE | £1800 |
| TYPE | Acoustic resonator |
| BODY | Solid Koa top, Solid Australian Blackwood back & sides |
| NECK | Spliced maple with tobacco burst |
| F/BOARD | Rosewood 25" scale 12" Rad. |
| BINDINGS | Bloodwood with fine line b/w |
| HARDWARE | Schaller tuners & straplocks |
| ELECTRONICS | None |
| FINISH | Nitro. Gloss to body satin to back of neck |
| COMMENT | Very solidly built |
---
| | |
| --- | --- |
| GUITAR | CE-N SOLIDO |
| PRICE | £1500 |
| TYPE | Thinline cutaway semi-solid electro Nylon-string |
| BODY | Chambered swamp ash with Lutz spruce top |
| NECK | Spliced mahogany with truss rod |
| F/BOARD | Indian rosewood 25" scale and 14" rad |
| HARDWARE | Rubner tuners |
| ELECTRONICS | Fishman Matrix Infinity |
| FINISH | Gloss Nitro with tinted satin top and back of neck |
| COMMENT | Reviewed by Guitarist Presents Acoustic mag 2017 who concluded:-"Chris's build and attention to the smallest details puts his work up amongst the best there is in the world" |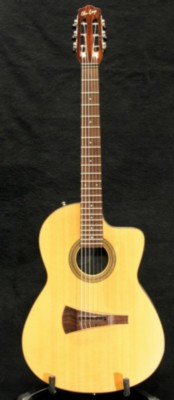 ---
| | |
| --- | --- |
| GUITAR | Surf Green Special |
| PRICE | £2000 |
| TYPE | Semi hollow, carved to, set neck electric |
| BODY | Hollow mahogany with carved mahogany top |
| NECK | Triple spliced mahogany |
| F/BOARD | Bound ebony,25" scale 12 rad |
| HARDWARE | Bigsby B7 Vibrato.Tone pros bridge, Scahaller tuners, Dunlop dual strap locks |
| ELECTRONICS | TV Jones Classic neck and Powertron Bridge pickups One Vol two tones |
| FINISH | Gloss surf green nitro |
| COMMENT | Really lovely Gretsch type guitar, It is a set neck although from the back it looks like a neck through body. Ebony headfacing, pickguard and arm rest. It was featured in Guitarist mag March 2012 and on the front of their 2013 calendar, There is also a sound clip of it being demonstrated by I think Mick Taylor of Guitarist somewhere on Youtube. |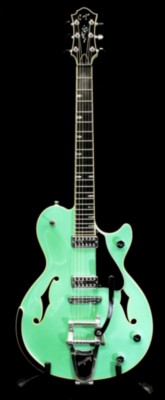 ---
GUITAR
Acoustic
PRICE
£1800
TYPE
Acoustic (oo sized)
14.25" lower bout, 4.125" deep, body length 19.6"
BODY
Spalted maple back and sides, torrefied sitka spruce top. koa bindings with fine line b/w/b purflings
NECK
Korina with two way truss rod
F/BOARD
Macassar ebony 25.5" scale. 14" rad. Evo gold fretwire
HARDWARE
Nickel lightweight, back locking tuners, Schaller strap locks
ELECTRONICS
None
FINISH
Satin nitro cellulose to top and neck, gloss to headfacing back and sides
COMMENT
Lovely smallish acoustic with loads of charm.